Today I will show you the updated list of the sexiest and handsome men in India 2020 with their bio, age, pictures, and some facts about them that you want to know. Having the most perfect look is not just about the best face, rather a man needs to be complete in appeal, body, and look. Most of the time, the world tends to be highly biased, when it comes to gender. You'll hear people talk about pretty and beautiful ladies, but here we are talking about the hottest and handsome men in India.
The worst bit is that even men forget to pass a word of appreciation among themselves and all their attention is directed to ladies whom they adore most. In simple, men should appreciate themselves, before extending their love to ladies. In one of the holy books, it is categorically stated that individuals should love others as they do to themselves.
List of Sexy and Handsome Men in India 2020 with Bio| Age| Pictures & Facts
1. Vivian Dsena
He is a television actor, first appeared on Star One channel. He is one of the handsome hunk tv celebrities. Vivian Dsena was born on 28-06-1988 in Ujjain in the state of Madhya Pradesh, India. He is an Indian Television Actor, Soap Opera Actor & Model who is known for his work in the Hindi television series. He made his debut in the year 2008 from the television series Kasamh Se.
He worked in the television series named Pyaar Kii Ye Ek Kahaani with the character Abhay. He even worked in the Madhubala-Ek Ishq Ek Junoon with the character of Rishabh Kundra. He is now working in the television series named Shakti — Astitva Ka Ehsaas Ki in the male lead role. He further admits that when he had a struggling period in his career the people used to ill-treat him. However, now he has got nice success and the people really liked to be friends with him. Therefore, He is listed as one of the hot and handsome men in India 2020.
Bio| Age & Facts about Vivian Dsena
Vivian is born to a Hindu mother and a Christian father. Therefore he is of Indian and Portuguese descent.
Vivian was a national level football player and wanted to pursue football as his career.
Vivian loves eating rice mixed with curd.
Vivian's favorite Bollywood actors are Rekha and Salman Khan.
As a B-Tech student, Vivian was all set to pursue his engineering exams. But he got a call from Gladrags and that changed his life.
2. Mahesh Babu
He has a very charming personality in Telugu cinema. He is also one of the most handsome men in South Asia. He has a slim body, tall height, and a very intoxicating eye. He is not only an actor but he is also a producer, philanthropist, and media personality. He has played a lead role in most of the movies. At last, I am adding him at number two in the list of sexy and handsome men in India 2020.
Bio| Age & Facts about Mahesh Babu
The Bharat Ane Nenu actor started his career at the age of 4. In 1979, the actor visited on the sets of Needa, where he shot a couple of scenes for the film and that turned out to be his debut film as a child artist.
As a child artist, Mahesh Babu acted in 9 films- Needa, Poratam, Shankharavam, Bazaar Rowdy, Mugguru Kodukulu, Gudachari 117, Koduku Diddina Kapuram, Bala Chandrudu, Anna Thammadu.
After doing 9 films, the actor focused on his studies for his father. He made a comeback in 1999 he made his debut as a lead actor with "Raja Kumarudu" co-starring actress Preity Zinta.
We bet you didn't know Tamil Actor Karthi, brother of Tamil Superstar Surya, was Mahesh Babu's schoolmate. The two studied in the same St.Bede's Anglo Indian Higher Secondary School in Chennai.
Mahesh Babu married his Vamshi co-star and Bollywood actress Namrata Shirodkar in Mumbai in 2006, after dating her for four years.
He is 45 years old
3. Gautam Rode
He is a television actor. He is one of the charming TV personality. He has been a part of many famous tv shows in his life. He is one of the charming TV personality. He has been a part of many famous TV shows like Saraswatichandra, Maha Kumbh, Ek Rahashya, Ek Kahani, and others. He has got a very cute smile with a charming face and slim fit physique. In spite of being 41 years old, he has maintained a fit body. Besides his acting skills, he has also impressive dancing skills. Thus he is one of the hottest and handsome men in India 2020.
Bio| Age & Facts about Gautam Rode
Gautam Rode is a staunch vegetarian.
One of the many memorable fan encounters that Gautam had was the one when he visited the UK. People on the road were screaming out his name and his character's name (Saras). He felt like Shah Rukh Khan when people were pulling his shirt and jeans.
Gautam has natural red lips which are a sign of good nourishment.
The handsome man is a very simple guy who does not like to party or consume alcohol. He likes to stay committed to his work and meets his friends over coffee when free.
Gautam loves holidaying in London.
4. Karan Tacker
The dashing looking Karan Tacker was born in Mumbai. He started his career with modeling assignments such as Nivea Men Cream. Later on, he became famous in India. A career with modeling assignments such as Nivea Men Cream. Later on, he became famous for his role Viren Madera from serial Ek Hazaron Mein Meri Behna Hai, Star Plus. According to the news source, he is dating Krisyle D'sSouza but they have not accepted their relationship on screen. He is also on the list of sexiest and handsome men in India 2020.
Bio| Age & Facts About Karan Tacker
Amongst the alcoholic drinks, Karan loves indulging in a mojito, scotch on the rocks, and beer.
The handsome actor loves playing Basketball.
Karan's favorite Bollywood actresses are Katrina Kaif and Kareena Kapoor while his favorite Bollywood actor is Akshay Kumar.
Karan's ideal woman should be fun-loving, intelligent, and should have a good personality.
The Mumbai boy's idea of a perfect Sunday is going off to a beach, sip a drink, eat amazing seafood and spend the evening at a lounge.
He is 34 years old.
5. Hrithik Roshan
He is the finest actor in Bollywood. His acting and dancing skills are unmatchable. He has one of the best-looking bodies. Hrithik Roshan is a renowned Indian film actor who is massively recognized for his adaptable characters, exceptional dancing abilities, and appealing looks. He was born in Mumbai, India on 10th January 1974.
When performed in movies as a child star in the 1980s, Hrithik Roshan made his first acting debut in a notable character in "Kaho Naa Pyaar Hai" for which he received Filmfare Awards for the Best Male Debut and Best Actor. After his debut movie, Hrithik acted in Karan Johar's movie "Kabhi Khushi Kabhi Gham", which got enormous love not only in India but even out of the country.
Bio| Age & Facts about Hrithik Roshan
Hrithik's first paycheck came from shaking a leg with Jeetendra in the film 'Asha' (1980). The 100 Rupees he earned were spent on buying 10 Hot Wheel Cars, igniting a passion for cars for life.
Duggu is Hrithik's nickname, and his official name is Hrithik Nagrath
Hrithik went to Bombay Scottish School and is a commerce graduate from Mumbai Sydenham College. He opted out of a scholarship Master's degree course in the USA to become an actor.
Grandson of famous classical music composers Roshan Lal Nagrath & Ira Nagrath (paternal grandparents), and nephew of music composer Rajesh Roshan, it's music, not acting, that runs in Hrithik's family. Stepping up to any tune comes naturally to him. In 'Guzaarish' and 'Zindagi Na Milegi Dobara' he has even sung.
Hrithik, like Aamir, is a perfectionist. His expertise as a diver came handy in 'Zindagi Na Milegi Dobara' where the daredevil stunts were performed by him and not by a double.
6. Shahid Kapoor
He is one of the most handsome looking actors in Bollywood right now. He has admired many times for his difficult roles in movies. Shahid Kapoor is a Bollywood actor who carved his own way into the Hindi film industry, and his initial roles in the films helped him create a chocolate boy image. Son of actor Pankaj Kapur and dancer Neelima Azeem, Shahid Kapoor started off as a background dancer for Hindi films while working for Shiamak Davar`s dance institute, and has been part of the industry for 20 years. His personality lists him in one of the hot and handsome men in India 2020.
The actor is not only known for his charming looks but is also considered to be a genuine and serious actor after giving successful hits like Jab Wet Met and Kaminey. A London-based weekly, Eastern Eye, ranked the actor as the fourth `Sexiest Asian Man in The World` in 2011. In 2012, the actor won the title of `Chivas Award for The Ultimate GQ Man`. The actor won multiple awards for his performance in Haider.
Bio| Age & Facts about Shahid Kapoor
Belongs to the lineage of actors:
He loves animals incredibly:
Shared screen space with Shah Rukh Khan:
He is officially Shahid Khattar:
Shah Rukh Khan motivated him to beef up:
Shahid loves Desserts:
He is 39 years old.
7. Virat Kohli
Virat Kohli is one of the best cricketers that the Indian Cricket team could have. He is currently the captain of the Indian National Cricket Team. His appearance with the beard is loved by many fans making him one of the most handsome men in India. He is best known for being the fittest player as he has maintained his body very well. Now in 2020, he is still ranking in the top list of sexiest and handsome men in India 2020.
Bio| Age & Facts about Virat Kohli
He began his training in cricket at West Cricket Academy in Delhi in 1998.
He, like his idol Herschelle Gibbs, excelled in batting and fielding.
Virat started his career on a sad note, as his father passed away during his Ranji trophy debut game. He did score an impressive 90 runs.
He likes to bat in the middle order and displays swift footwork. He is adept in chasing runs under pressure. Cover and mid-wicket are his strong areas, but he can hit all kinds of shots.
His nickname is Chikku. Who gave it to him? Delhi State coach Ajit Chaudhary.
He is 31 years old.
8. Prabhas
Prabhas is an Indian film actor who predominantly works in Telugu movies. You would have seen him figuring in the movie and you surely don't need any confirmation about how handsome and humble he is. He is an actor who proved that you do not need to work on big-budget movies to be successful. His introduction is not at all required as you might be knowing that he worked in Bahubali Series. You would have seen him fighting in the movie and you surely don't need any confirmation about how handsome and humble he is.
Bio| Age & Facts about Prabhas
In a career spanning over 15 years, Prabhas was a mega-star even before 'Baahubali'. He has acted in a gamut of Telugu films and enjoys a big fan following down south.
Prabhas has an impressive lineage within the film industry. While his father, Suryanarayana Raju, is a producer, his uncle, Krishnam Raju, is a Tollywood actor.
Prabhas has started his career in Bollywood too. He did a cameo role in 'Action Jackson'. Prabhas is the first South Indian star to have his own wax statue at Madame Tussauds, Bangkok. While most actors these days deliver 2-3 films a year, Prabhas believes in working on one film at a time. He shot for nearly 600 days and dedicated 5 years for the Baahubali franchise.
He is the youngest of three children, with an elder brother Pramod Uppalapati and sister Pragathi. His uncle is Telugu actor Krishnam Raju Uppalapati. Prabhas attended the DNR School, Bhimavaram and graduated with a B.Tech. degree from Sri Chaitanya College, Hyderabad.
He is 40 years old.
9. Salman Khan
Born on December 27, 1965, Salman Khan is the son of the legendary writer Salim Khan, who penned many super-hits in the yesteryear's like Sholay (1975), Deewaar (1975), and Don (1978). Salman started his acting carrier in 1988 by doing a supporting role in the movie Biwi Ho To Aisi (1988). The following year he had the leading role in the box office romantic hit Maine Pyar Kiya (1989).
From there he became a heartthrob of Indian cinema. Everyone knows who is Salman Khan, no doubt that he is the most handsome personality and actor in Bollywood. He has given 100s of blockbuster movies in his career. This actor is aged but he is also in the list of hot and handsome men in India 2020.
Bio| Age & Facts about Salaman Khan
Salman Khan wanted to be a Writer
Salman Khan never used his father's name during his struggling time. He goes as a struggling actor to audition for movies. So Yes, he is a Self Made Man.
Salman loves Chinese food. His favorite restaurant for Chinese food is China Garden in Mumbai
Salman hasn't made his Acting Debut with "Meine Pyar Kiya" but with a supporting role in the movie "Biwi Ho To Aisi" in 1988.
Salman Khan doesn't watch Katrina's films
10. Vidyut Jamwal
Next on our list is Vidyut Jaiswal from Kanpur. He is 5 feet and 11 inches tall. In addition to this, Vidyut is addicted to the gym and he has developed a lot of muscle mass with regular workout. The actor has a 45 inches chest along with 18 inches biceps and he worked in movies like Force.
Bio| Age &
Facts about Vidyut Jamwal
Vidyut Jamwal started his martial art training at the age of 3 and the ashram where he learned all forms of art like Gymnastics, Parkour, Kalaripayattu, and Jiu-Jitsu, was run by his mother.
There are only a few actors who have traveled to various countries and Vidyut Jamwal is surely one of them as he traveled across 25 countries and had also performed live.
Vidyut was named as the Hottest Vegetarian Celebrity in the year 2013 and in the year 2014, PETA declared him as the Hottest Vegetarian of the year which is quite fair.
Bollywood as well as working in some Tollywood movies like "Shakti". In the event that you are his greatest fan, at that point, you can doubtlessly watch it. He additionally worked in Kollywood film "Billa 2".
He is 39 years old.
11.
Siddharth Malhotra
Siddharth Malhotra also doesn't need any introduction. This actor is 6 feet 1 inch tall and in addition to this, he has a biceps size of 16 inches which is complemented by 42 inches of the chest. The first movie he worked in was Student of the Year and since then he delivered many hit movies. As per the rumors, he is in a relationship with Alia Bhatt.
Bio| Age &
Facts about Siddharth Malhotra
He made his TV Debut in Prithviraj Chauhan. …
He was offered Madhur Bhandarkar's Fashion. …
His favorite game is Rugby. …
He is an artist too. …
Punjabi by heart-All time Foodie
he is 35 years old
12. Karan Kundra
He is a television personality, actor, and model. He has been a part of various TV reality shows like Roadies. What makes him most handsome are his eyes which are very intoxicating, his hairstyle, smile, and tall height. He is also one of the best anchors of different TV shows including Gumraah.
Bio| Age & Facts about Karan Kundra
Karan is born on October 11, 1984, in Jalandhar, Punjab.
His dad SP Kundra is a businessman
He did his schooling from Mayo College, Ajmer, Rajasthan, and has done graduation with an MBA degree from the US.
Karan participated in 'Mr. India 2008' and won the title of 'Mr. Style Statement'
He is best known for playing the role of Arjun Punj in Ekta Kapoor's Kitani Mohabbat Hai that aired on NDTV Imagine.
13. Kartik Aaryan
Kartik Tiwari (born 22 November 1990), known professionally as Kartik Aaryan, is an Indian actor who appears in Hindi films. While pursuing an engineering degree in biotechnology, he dabbled in modeling and made attempts to start a career in film. After struggling for three years, Aaryan made his acting debut in 2011 with Pyaar Ka Punchnama, a buddy film about the romantic tribulations faced by three young men, which was directed by Luv Ranjan and co-starred Nushrat Bharucha.
Bio| Age & Facts about Kartik Aaryan
Aaryan isn't his real name. The guy who has a huge fan following all over the world is the Gwalior boy Kartik Tiwari.
Kartik Aaryan has done Btech in Biotechnology. He aimed to be a scientist, if not an actor in Bollywood, in the National Aeronautics and Space Agency.
The actor is also a great table tennis player.
Kartik Aryan is a big buff of play station. He bunked classes to enjoy play station games with his friends.
When he was struggling to be an actor, he used to live with 12 people in a 2 bedroom set.
He is 29 years old.
Aaryan went on to play the romantic interest of the lead female characters in Akaash Vani (2013) and Kaanchi: The Unbreakable (2014), but these films failed to propel his career forward. He subsequently collaborated with Ranjan and Bharucha in two more buddy films, Pyaar Ka Punchnama 2 (2015) and Sonu Ke Titu Ki Sweety (2018), both of which were commercially successful but received criticism for their misogynistic themes. The latter proved to be a breakthrough for Aaryan, and he followed it by starring in the 2019 romantic comedies Luka Chuppi and Pati Patni Aur Woh.
14. Ranveer Singh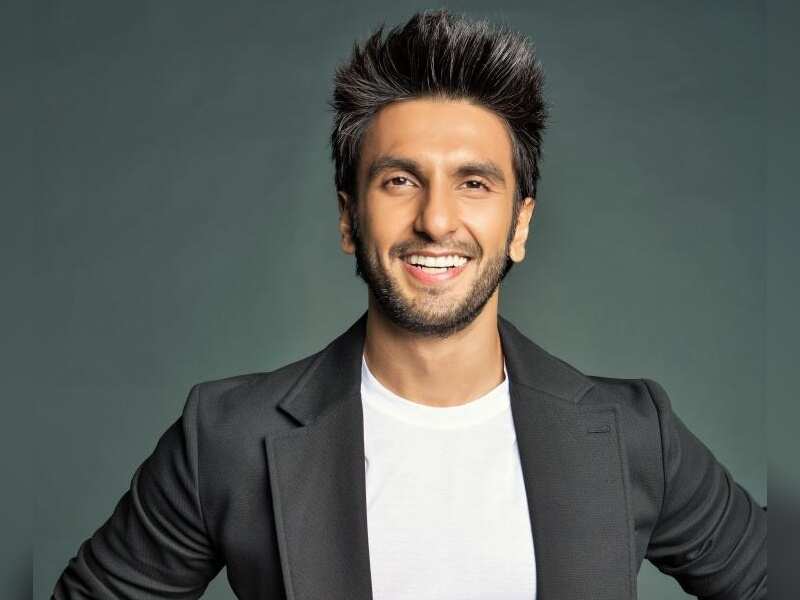 Ranveer Singh is one of the highest-paid actors in the country and has featured in Forbes India's Celebrity 100 list since 2012. Singh made his acting debut in 2010 with a leading role in Yash Raj Films' romantic comedy Band Baaja Baaraat. The film was a huge commercial success, The 35-year-old actor has a huge following, known for his explosive personality and stunning looks, the actor is married to Deepika Padukone.
Bio| Age & Facts about Ranveer Singh
Ranveer and Sonam are second cousins!
Ranveer was reportedly once dating Ahana Deol.
He worked as a copywriter before becoming an actor.
He loves his X-rated magazines.
Ranveer Singh rejected 3 big Bollywood movies before Band Bajaa Baraat.
15.
Varun Dhawan
The next handsome man on our list is Varun Dhawan. He also started his career as Student of the Year and he climbed the stair of success quite fast. He is the son of David Dhawan and his brother is also a director. There is no doubt about the physic of Varun and he is surely one of the most attractive and hottest men in India.
Bio| Age & Facts about Varun Dhawan
Varun was a very naughty child. Father David and Mom Lali Dhawan had a tough time disciplining him.
Varun's elder brother Rohit always wanted to be a director while Varun was adamant about being an actor. They are as inseparable in real life as Ram and Lakshman.
Papa David Dhawan refused to launch Varun in home production. 'I wanted him to go out there and find his bearings,' said David. Karan Johar took it on himself to launch Varun.
Varun is very close to his brother Rohit Dhawan. Not only does he share his birthday with the master blaster, but he is also a great fan of the iconic cricketer
He is a great fan of wrestler and actor Dwayne 'The Rock' Johnson.
He is 33 years old.
All-Time One Most Handsome Man In India 2020
Virat Kohli is one of the best cricketers that the Indian Cricket team could have. He is currently the captain of the Indian National Cricket Team. His appearance with the beard is loved by many fans making him one of the most handsome men in India. He is best known for being the fittest player as he has maintained his body very well. Now in 2020, he is still ranking in the top list of most handsome men in India 2020. He is also an all-time one most handsome man in India till 2020.
Most Handsome Men In India 2020 Youtube Video
Here is the youtube video of a list of the most handsome men in India.
Who is the World's Most Handsome Man
Now let's discuss the world's most handsome man and who has received the world's most handsome award.
Robert Pattinson is the most handsome man in the world according to the 'Golden Ratio' equation devised in Ancient Greece (and Henry Cavill is a close second)
Actor Robert Pattinson, 33, has been named the most beautiful man in the world
This is according to the Golden Ratio of Beauty Phi devised in Ancient Greece
His facial features came closest to the ancient Greeks' idea of perfection
Meanwhile Henry Cavill, 36, and Bradley Cooper, 45, also ranked well for beauty
Conclusion
People are asking for the most handsome men in India and some are asking particularly for the most handsome men in India 2020. In this post, we have discussed the most handsome men in India 2020 with their age, bio, and facts as per sources we have mentioned all the handsome men in the above list. The list will be updated and upgraded soon. Stay connected. If you have any queries or doubt you can mention in the comment section below follow us on the Instagram link.